Help/Guide to the Funds Congress virtual platform
On this page, you will find a virtual platform tour and FAQs.
Virtual Platform Tour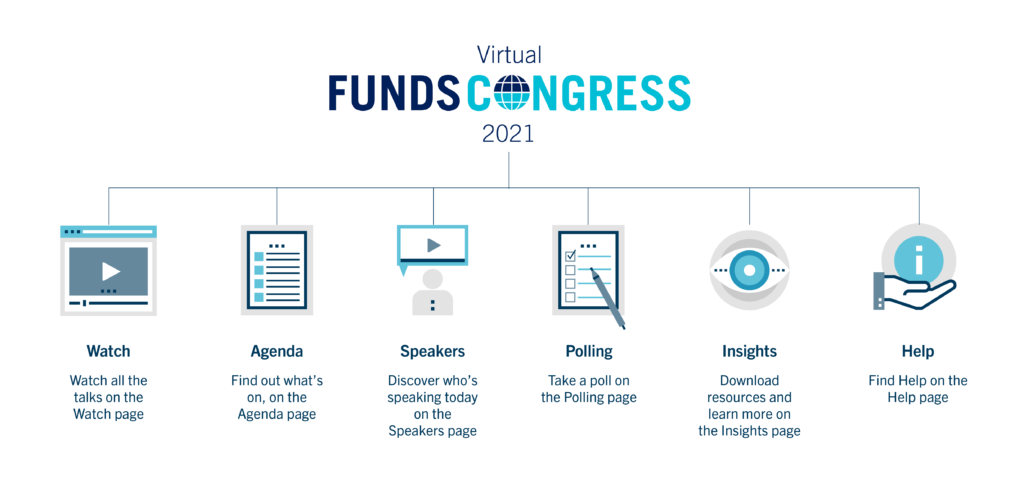 Watch (Home page)
This is where the event stream will be shown. The "Watch" tab found on the top menu bar and at the foot of each tab will direct you to view the event panel and keynote talks.
The view can be expanded by clicking on the "Full screen" button and minimised in full screen mode by clicking the minimise button in the bottom left-hand corner or by pressing Escape/Esc.
Throughout the event all audience members are in listen only mode so you can hear the presentations and speakers. They cannot hear or see you, however you can participate in Q&A and Chat:
Ask a question function – Attendees will be able to send questions privately to the Funds Congress team of experts who will respond shortly after the sessions. Please note that this is not in real time.
Chat function – Attendees also have the ability to share thoughts with the wider audience base or send messages to individual attendees via the chat function which can be found by selecting the "Chat" button at the foot of each page.
Agenda
You will find the virtual Funds Congress 2021 line-up and timings on the "Agenda" page. A PDF version of the Agenda can also be found in the Insights tab under "Funds Congress".
Speakers
On this page you will find information and biographies of all the Funds Congress 2021 speakers.
Polling
The purpose of these polls is to gather intelligent market data on some of the hottest topics affecting the asset management industry. Please take a few minutes to complete the surveys, the results of which will be shared with participants after the event. Thank you for your contribution.
Insights
On this page attendees can access a broad range of resources including:
"Funds Congress Extra" where you will find additional insight videos from some of the Funds Congress 2021 speakers.
Thought leadership pieces from the event sponsors on many of the hot topics covered at Fund Congress, including ESG, regulatory priorities, PE, future of work, key issues for private fund managers and many others.